Service
To ensure maximum benefit from your Planeta Press service calls, be aware of what's going on both inside and outside your press. This awareness will help you identify problems, establish a service priority list and communicate effectively with the person servicing your machine. More importantly, you'll maintain consistent printing quality while minimizing your downtime.
At International Graphics Technologies, we work exclusively on Planeta Printing Presses, and we've made it our business to know them inside and out. We also have extensive knowledge of various equipment throughout the printing industry.
Our professional service team is factory-trained to provide expert repairs and maintenance for your Planeta press. All work is done strictly according to factory specifications and backed by our guarantee of satisfaction. And because we pride ourselves on our work and our honesty in dealing with our customers, we don't believe in shortcuts or quick fixes. Neither our reputation nor your printing quality is worth the risk.
We know how much downtime can cost you, so you'll always get a timely response when you call International Graphics Technologies (In fact, we've solved many problems over the telephone). For on-site maintenance and repairs, you can rely on us to arrive promptly with the right tools to get your press up and running as soon as possible. We even have specialized equipment for such tasks as removing oscillator rollers and frozen bushings. Any parts we don't happen to have with us are, if they're not in stock, shipped to your site overnight. And after the work is done, we'll follow up with you to make sure your press continuing to work properly.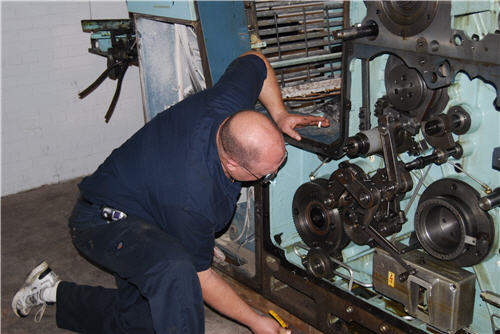 We want to help you take good care of you Planeta press, and believe that sharing our expertise is part of our service. Our staff can teach you or your operators how to perform routine press maintenance procedures, make basic adjustments and how to use the Planeta owner's manual.
International Graphics Technologies also keeps complete records on all repairs and maintenance we perform on your press. These serve not only as a backup for your own records, but also help us keep you on a regular maintenance schedule.